I hit Nordstrom Rack the other day to find a dress and for the first time in my adult life, I walked out with a complete ensemble: dress, some a-ma-zing Dolce Vita stilettos, and jewelry. That never happens 1) because I am jewelry-inept and never know which accessory to pair with anything and 2) because I always have at least one child with me and by the time I've tried on 38 dresses and 22 pairs of shoes (these numbers are not hypothetical), they're fed up. I almost always bypass the jewelry section but on that day, something really fabulous caught my eye.
It was an antique brass chain with a large slice of polished blue-green agate hanging from it. I immediately fell in love with the hippie-chic vibe and thought that layered under a cool multi-strand necklace, it'd be the perfect foil to my dress. Since I only had a $100 budget (oh, how I love the amazing deals at the Rack!) and the agate necklace would've put me over by $20, I snagged the multi-strand number for $7 and headed home with a plan to make myself that glorious pendant. Here's how I did it:
I set out for the woods behind my in-laws' property and found a gnarled branch that fell off of a scrub oak tree. It was about 4" in diameter--perfect. I brushed the bugs off and carried it to the garage.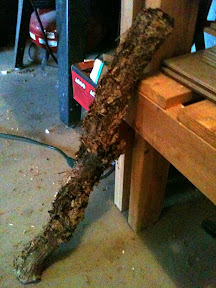 I used my father-in-law's miter saw to slice several 1/4" cross sections from the branch. It was very brittle, so I knew I'd need lots of backup slices. Don't forget safety glasses if you try this at home!
I then used a 1/16" bit to drill holes near the top of each slice. I broke 4 slices in this process, so it was nice to have several spares.
I sanded them with a power sander and dusted them off with a damp rag. Then the real fun began!
I got so carried away with my paint brushes that I forgot to take pictures, but I mixed up four or five hues and went to town. Start with the darkest hue in the center and work your way out, making concentric organic shapes. I referred to a photo of a real agate slice, but from the looks of things on Google Images, anything goes in the realm of geological artistic license. Just have fun!
I painted the rough, bark-covered edges with a blue-black shade and washed it with black once the first coat was dry to give it some depth and realism.
Once everything was dry, I broke out my new favorite product:
This is like
Plaid Royal Coat Dimensional Magic
which kind of has the same effect as resin. It's so easy to apply and it gave me the perfect smooth and glossy finish. I carefully trace around the edge of my wood slice with the product and the filled in the outline with a thick layer. After a drying time of about 12 hours, it was solid. My wood was very porous, so I applied two more coats of Glossy Accents and allowed to dry between each one.
Then, I added an eye pin (scroll down to find out how) and attached it right to my multi-strand necklace with a jump ring.
I love how it turned out and got lots of compliments!
This isn't the dress I bought, but I love that this necklace is versatile and funky.
I made another pendant the same way, but i didn't paint it. I simply applied three coats of Glossy Accents to the bare wood and i love that one, too.
Just slip an eye pin through the drilled hole and bend it up.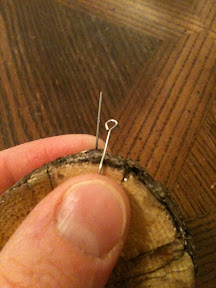 Twist the tail around the stem beneath the eye.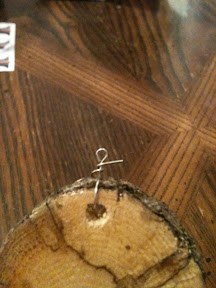 Continue twisting and trim off the excess.
Ta-da!