My six-year-old daughter had an adenoidectomy today and she was more than a little apprehensive about the procedure. I surprised her with some new jammies to wear to the surgical center, and I think they helped ease her anxiety.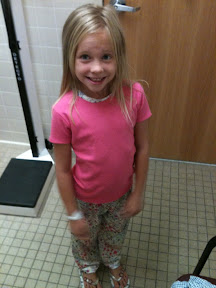 I found the silky, stretchy mystery floral print at Walmart for $2/yard and the top is cut from a women's t-shirt I had to buy at K-Mart during a wardrobe emergency a few weeks ago. I used some of Amber's well-fitting p.j. pants and a shirt from Old Navy for patterns, and the cute jammies only took me 90 minutes from start to finish.
I used a narrow strip of floral to bind the neck and the existing hem of the shirt to save me time. I found that for me, it's easiest to assemble the top this way: sew the shoulders together, but leave one shoulder open about 1 1/2" at the neck. Start sewing the neck trim on at this open section and go all the way around. Stitch the shoulder closed and catch both ends of the trim inside it, sew on the sleeves at the shoulder seams, and then sew the sides together from the arm opening of the sleeve to the armpit and down the sides of the torso.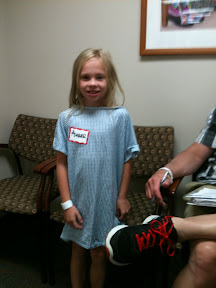 So while she was less than thrilled about donning the hospital gown, snuggling with Grandpa's dog Roofus after her surgery made everything better.
I'm linking to these sites:
border="0" href="http://tatertotsandjello.blogspot.com"
target="_blank">
src="http://hadfield.smugmug.com/photos/825895175_xmTVA-O.jpg"
alt="Join us Saturdays at tatertotsandjello.com for the weekend wrap
up party!" />