I have a love/hate relationship with purses. When I find the perfect handbag, I completely wear it out. I carry it with me all the time, and I love when it can do double duty and contain a diaper, some wipes, and a sippy cup for my 19-month old. The problem is finding that perfect purse. If I had an unlimited budget, it obviously wouldn't be a problem (thank you, Michael Kors!), but since my family is in the dregs of law-school loan repayment, I really have to make my dollars stretch.
Last spring I tried my hand at purse making and came up with
an adorable little number
that looked awesome but didn't function as well as I needed it to. The strap placement was all wrong, the cotton fabric was like a dirt magnet, and the inner support system just wasn't pulling its weight. The great part was that all of the materials came from a big bag of fabric my grandma sent to me. Free is good in my book, and I learned some valuable lessons on construction and design, so I wanted to give it another shot.
When I mustered the gumption to try again, I used some cute and spunky laminated cotton from Ikea. I only needed half of a yard, so the $4 price tag couldn't be beat. I used leftover Grandma fabric for the inner supports, and a remnant of black canvas from Walmart for the lining. I trimmed the pockets with a few scraps of black and white polka dot fabric and six dollars and three hours later, I had this:
I really love it! I know it doesn't have universal appeal, but I think it's totally fabulous.
It has oodles of custom pockets inside (the pictures are awful, sorry) for everything I carry with me. It even has an incognito envelope pocket in the bottom gusset where I stash my gum (my children are thieves and they still haven't discovered the hiding spot). Aaah. A full stash of gum. Whenever I need it. That hasn't happened to me in six years.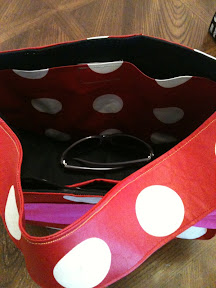 I've always been a fan of hot pink and red together (even when it wasn't trendy). This sash makes me smile every time I see it. I think it makes a nice, summery, I-wish-I-were-on-a-beach-in-Brazil statement, and it's removable so I can make a fall/winter update in a month or two. I'm thinking houndstooth...
So if you can't find your perfect purse, try making one. There are lots of tutorials and tips online and you may just fall in love with your creation like I did.