We are pizza fanatics at our house. I'm crazy about deep-dish Chicago style and authentic pizza Napolitana, while my husband and kids could eat any kind of pizza any time. The warm, gooey, spicy, chewy goodness just gets us. It's crazy, really.
Recently we began making our pizza from scratch. I'm trying to sneak more whole foods into our diet, so whole wheat crust and homemade sauce with lots of pureed veggies make me feel less guilty about our over-the-top pizza habit. We bake it in our oven at home, but when it gets hot outside (our AC isn't stellar), the grill makes easy and quick work of making a pie worthy of the very best pool party.
Start with your favorite pizza dough recipe (like
this
-- made with whole wheat--or
this
). Then, assemble all the toppings you'll be using and organize them on a large tray or baking sheet. The grilling process is fast, so it's important to have everything you need next to the grill. You'll also need olive oil (either to brush or spray on the dough) and a large, grill-proof spatula.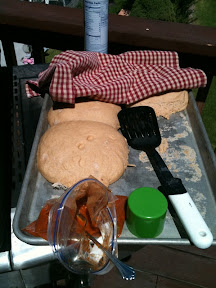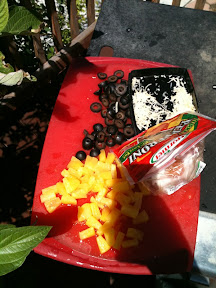 Turn on or light your grill. Heat it until it's screaming hot (I have a gas grill and I heat it to 700 degrees). If you have a charcoal grill, move most of the coals to one side so you'll have a direct heat zone and an indirect heat zone. Now you're ready to rock.
It's easiest to make small pizzas (between 8 and 10 inches) so divide your dough into four portions. Use your hands to stretch and flatten the dough. Don't worry if your pizza isn't round. An irregularly-shaped crust adds to the rustic charm of grilled pizza.
Once your dough is stretched, brush or spray one side with oil and plop it right down on the grate of the grill. Close the lid and let the dough cook for about five minutes, but check it every 90 seconds or so. Don't let your crust get too dark, but cook it long enough to get grill marks and a nice color. At this point, I turn my gas grill down to 400 degrees.
Spray or brush the uncooked side with oil and flip the crust over (onto the indirect heat zone if you are using charcoal). Add your toppings, cover the grill, and cook the pizza just until the cheese is melted and the crust has a nice color on the bottom.
If your family is like mine, everyone will be waiting to ravenously devour the pizza as soon as it reaches the table. We just tear ours into pieces (so we can all try different topping variations), but I'm sure civilized people cut it with a wheel and use plates and the like. Either way, it's a quick, easy, and delicious way to enjoy pizza on a hot day.
Although its almost painful to decide, my favorite combination of pizza toppings is a Margherita: fresh buffalo mozzarella with ripe tomatoes and basil straight from the garden. What's your fave? Leave me a comment so I can try it out!
I'm linking to the following sites:
border="0" href="http://tatertotsandjello.blogspot.com"
target="_blank">
src="http://hadfield.smugmug.com/photos/825895175_xmTVA-O.jpg"
alt="Join us Saturdays at tatertotsandjello.com for the weekend wrap
up party!" />