Thank you all for your loving sentiments regarding our loss of Grandpa Smith. His funeral took place yesterday and it was a glorious tribute to his amazing life. We have a peaceful feeling of love and comfort because we know Grandpa will always be watching over us and that we will see him again in the next stage of life.
Because of all the events of the past few days and because the challenge occurred in real time, I was only able to complete 5 of the 7 days in my
skirt challenge
. I really hate giving up, so I'll make the last two skirts later this week. Hopefully you've found some inspiration to make a fabulous skirt for yourself or he little lady in your life. I apologize for the interruption; I'm working on my bionic mom potion (I'll let you know once I've perfected the formula, he he), but i just couldn't keep everything on my plate warm. I hope you'll continue to check in because I really love creating things to share with you.
In the meantime, here's a great recipe for yummy and healthy whole wheat pancakes. They're awesome brain food (full of protein and fiber) and I'm planning to make lots of these now that school has begun.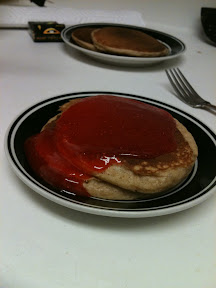 Fantastic Flapjacks
1/2 cup plain Greek yogurt
3 eggs
3/4 cup plus 1 T skim milk
1 T pure vanilla
1 1/2 cups whole wheat flour
3 T sugar
1/2 t salt
2 t baking powder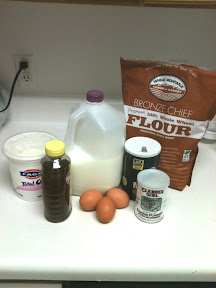 Heat griddle to medium-high or 350 degrees F. Whisk yogurt and eggs together until smooth, then slowly whisk in milk and vanilla to avoid yogurt lumps. Add dry ingredients all at once and stir just to combine.
Spray or grease the griddle and pour scant 1/4 cupfuls onto it.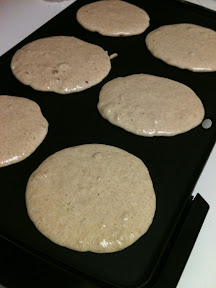 Cook until the edges are set, then flip. The pancakes will be a rich brown color and taste delicious.
Slather on some homemade freezer jam and you're sure to have an excellent day!
I'm linking here: