I love these little books. I work in the children's organization at my church, and we had a scripture-reading challenge for the students in Sunday School. When our kids reached their reading goal, we made them each one of these darling "scripture treasures." The kids were excited because it's made of chocolate and I loved them because they are so cute and easy to make.
You can easily make them secular, for a summer reading program reward or for a book club favor. So gather up a few supplies and make your book worms happy with a tasty tome treat!
You'll need the following supplies:
Cardstock cut into 1.25 x 2.25-inch rectangles
1/8-inch wide ribbon cut into 3-inch lengths
Hershey's Nuggets with gold or silver wrappers
Scripture or book quote printed on copy paper
Scissors
Glue gun and glue
Start by typing the quote. Copy and paste it into several columns. Break up the quote so half of it goes on one "page" and the other half on the other "page". You'll need two pages for each favor, So print accordingly. Cut the quotes apart and separate them into piles for easy assembly.
Set a cardstock rectangle on your work surface. Wrap one side of the printed quote around a nugget and secure with a tiny bit of glue (don't use too much or the chocolate will melt). Repeat steps for the other half of quote.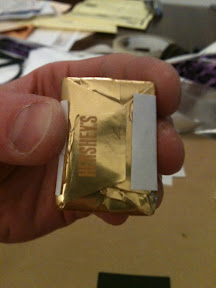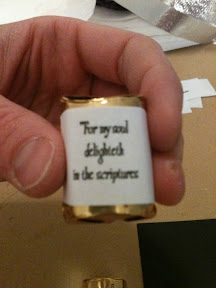 Arrange quote-wrapped nuggets on cardstock and glue down.
Add a dot of glue to the top of the ribbon. Attach it to the top edge of the nuggets in the space where they meet. Pull the ribbon down and gently nestle it between the nuggets. Trim to desired length.
Finished! Wasn't that easy? They were a big hit at church and my own kids oohed and aahed over them all day as well. I might take up reading again (college really ruined me!) now that I know I can whip up some tasty and adorable rewards. Or not.
I'm linking this project to
Tatertots and Jello
.