My five year old loves
Ponyo
, a sweet animated film. She had a Ponyo-themed birthday party and has begged me for "a dress like Ponyo's" for months.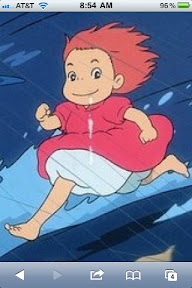 I have a longtime love of pantaloons on little girls, so I couldn't resist!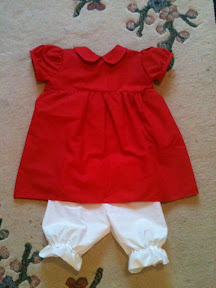 I'm kind of ashamed to say that in six years of serious sewing, this is only my first attempt at a dress with sleeves AND a zipper. I've been terrified of both and figured this project was the perfect motivation to bite the bullet. I didn't use a pattern for this dress and I was worried the sleeves would be a disaster, but they turned to be easy and are one of my favorite features of the dress.
I added a funky, exposed vintage zipper for a little
Seth Aaron
flair (I love his stuff!), and it looks alright. I lost my zipper foot and it's just hard to sew in a zipper without one. I'm proud, though, because this bodice is lined and I enclosed the zipper's raw edges and managed to keep it lined up. I'm in the market for a new zipper foot; I think I'll try more zippers now that I'm not afraid anymore. Lol.
Karli loved it! This impromptu modeling moment at the deli counter didn't yield any prize-winning photography (I was holding my 18-month old, after all), but I think she looks so cute!
Sorry for the blurry shot. I really love this pose. Heck, I really love this girl! Here's to a long summer of Ponyo-playing fun.