I'm a lover of family/food traditions. Nothing is sweeter to me than sitting down with the people I love most and enjoying a warm, nourishing meal together. I delight in preparing food that my grandma made for me when I was young and sharing it with my husband and kids. Thus, I was thrilled when my mother-in-law gave me a self-compiled cookbook of the Clarks' favorite recipes. It's a gem!
My favorite recipe from her book is Taco Salad. My husband loved it growing up, I love it, and everyone who eats it with us loves it. It's inexpensive, easy, quick, healthy, and delicious. You can make it for a huge crowd or just a couple and it freezes well. You'll find that you probably already have the ingredients in your kitchen. As far as I'm concerned, it's the perfect recipe!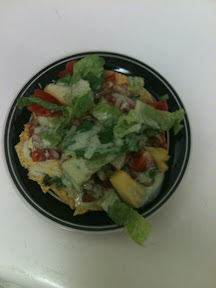 Taco Salad
Serves 6-8
1 lb ground beef (I use 95/5)
1 T dried onion flakes
1 T chili powder
2 t cumin
1 t granulated sugar
1/2 t garlic powder
1/2 t salt
1 28-oz can crushed tomatoes
1 6-oz can tomato paste
1 8-oz can tomato sauce
1/2 c brown rice (the kind that cooks in 10 minutes)
Corn chips (I adore yellow Santitas)
Toppings to taste:
Shredded cheese
Romaine lettuce
Chopped carrots
Cilantro
Pineapple chunks
Sliced green onions
Diced tomatoes
Diced avocado
Diced peppers
Creamy dressing (anything will do, but I really love homemade, like
Buttermilk Ranch Dressing
)
First, brown the ground beef in a large sauté pan or pot. Use one that has a lid. Halfway through the browning process, add all of the seasonings (onion, garlic, chili powder, cumin, sugar, salt). When meat is cooked thoroughly, drain off fat and return to heat.
Add tomatoes, tomato sauce, tomato paste, and 3 cups of water to beef mixture. Bring to a simmer and add rice. Stir. Cover and simmer for 30 minutes, or until rice is tender.
Serve accordingly: lightly crush corn chips onto plate.
Spoon beef mixture over chips and top with shredded cheese.
Add vegetables and pineapple,
top with dressing,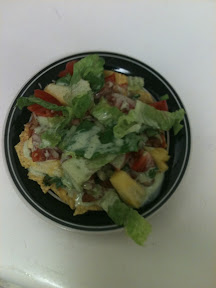 and wolf it down! Yum!
I hope you enjoy the Clark Taco Salad and that you have a delightful time eating it while spending time with people you love.
I'm linking to
Tatertots and Jello
and
Kojo Designs
.