Amber graduated from kindergarten this week, and she really wanted to give her fantastic teacher a special gift for her new baby girl due any day.
Amber chose this pink and white onesie, some coordinating butterfly fabric, and adorable pom pom trim. I chose the white satin blanket edging (instant waistband!) and we got to work.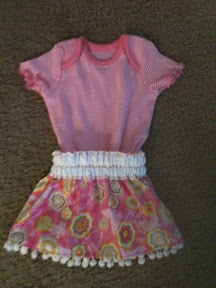 I love the way the pom pom trim gives this simple skirt a charming, whimsical feel. I also love using blanket edging as a waistband. I think I'll do that more often! I sewed three rows of stitching with my double needle to create two elastic casings. Cute!
Since Amber loves to match her little sister, she thought for sure that Mrs. Belnap's older daughter needed an ensemble as well. This time, I went for scallops and bows on the top layer and yellow underneath. I made the same waistband to tie the looks together and I was thrilled by the outcome.
I added some ribbon and fabric to the shoulders of a Walmart tank top and tied them in perky knots.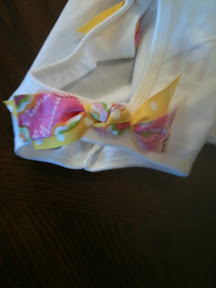 Last, but not least, I made two matching hair bows with more fabric and ribbon.
Mrs. Belnap and her daughter loved the outfits, and the best part is that Brittany can use the baby's outfit for her doll when Little Sis outgrows it.
I'm linking to
Tatertots and Jello
and
Delicate Construction
. Have a sunny weekend!