A month ago, when my friend was visiting from Denmark, we bought plenty of adorable, sparkly fabric to make matching
tutu skirts
for our daughters. We worked hard to finish hers since she was heading home soon, and I just got around to finishing the skirts for my daughters.
I'm glad I waited, because when I hit Hobby Lobby for satin to line the skirts, I found this fabric on sale:
Love! It's a light-weight, soft knit that has purple and hot pink polka dots in the mix--a perfect match for both of the skirts I planned to make for my girls. I ran home and figured I could whip up two tops and two skirts for my daughters to wear to church the next day.
Well..."I'll just whip them up" seem to be my famous last words. Before I knew it, six hours had passed and my four starving children lurked around the table wondering if they were ever going to be fed. What?! I think that I sew in a time warp, because I always spend way more time than I anticipate when I plunk down at the machine. Oops.
Here are the fruits of my labor:
Top A.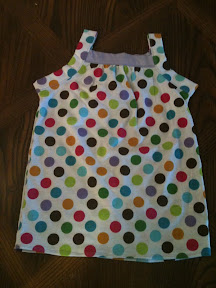 Top B.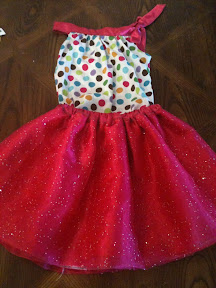 Ensemble A.
Ensemble B.
Cute daughter in a cute outfit.
Another cute daughter in a cute outfit.
I even received my greatest sewing compliment to date at church. One of my uber-stylish friends peeked in the back of one of the tops as she asked "Are these from Gymboree?". Ha! I was so flattered! At $6.50 per outfit, I think the time spent was well worth it.
I'm linking to these sites today: